Cover Crazy is a weekly book meme created and hosted by Tawni at The Bookworms
This week I'm crazy about...
What I love about this cover: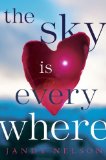 The color of the sky.
The beautiful color of the imperfect heart.
The imperfect heart is unique compared to the hearts that we try so hard to draw perfectly.
The size and font of the title.
What do you think about this cover?