Follow Friday is a weekly bookish meme hosted by
Parajunkee
and
AlisonCanRead
.
This week's feature is Peggy at Pawing Through Books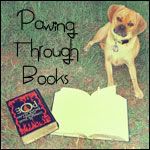 Be sure to follow her!!
Follow Friday's question this week is:
Q. Go count the number of unread books sitting on your shelf. How many?
A. Around 32. I have some unread library books, some eBooks and majority books from my shelf. I always make my library books first in line to read because they have a due date... Hehe. I always tell myself that I should start reading the books on my shelf but I just never came around to it.